Siegius is a tactic based game that is developed by the same creators of the raze franchise and several armor games' games.
Become the Roman Legion, the Gallic tribes, or a group of wild boars in this tactic game! Defend the lands of Rome, invade the Romans, or just kill all of them, it's all up to you.
Siegius is a strategy game. The player must choose one of the factions available. Each of the factions are different from their strategies. The player must summon their troops in adjacent lines. Each units can have their own uniqueness and capabilities along with uses. The player can also access spells and generals that affect much of the battlefield.
Juice-tin and Mike Sleva's game designs.
SIeigus is comparable to other games with the same game creators such as The Raze franchise and the Strike Force Heroes.
Siegius is also one of the games that has the game creators as one of the game characters. Which means Juice-Tin and Mike Sleva is in the game!
Screenshots
Edit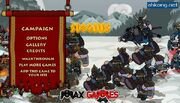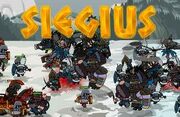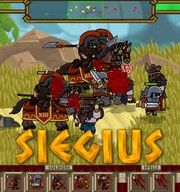 Notes: For editors make a gallery for this
Ad blocker interference detected!
Wikia is a free-to-use site that makes money from advertising. We have a modified experience for viewers using ad blockers

Wikia is not accessible if you've made further modifications. Remove the custom ad blocker rule(s) and the page will load as expected.