"Fast, with heavy armor and a spear attack that hits multiple enemies"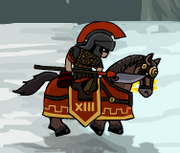 Cost: 170G
Cooldown: 16 Seconds
Attack Type: Melee
Damage Resistance:
Melee: 0%
Ranged: -50%
Magic: -50%
Special:
Hits all enemies in it's range
Attack: Lower then Average
Range: Near
Health: Lower then Average
Speed: Higher then Average
Ad blocker interference detected!
Wikia is a free-to-use site that makes money from advertising. We have a modified experience for viewers using ad blockers

Wikia is not accessible if you've made further modifications. Remove the custom ad blocker rule(s) and the page will load as expected.