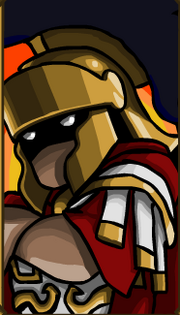 Caesar is the General of the Roman Legion.
Appearance
Edit
Caesar wears a white tunic with a leather cape.Along with the Roman's iconic "Feathered top Helmet" or easily identified as centurion helmet.Caesar's face is never revealed.Only his eyes are present.He wields a large Shield and a flaming sword.
He rides into battle on a white horse with gold armor.
Caesar is fast like the other 2 generals.Caesar's main strong point is his defensive capabilities.He also can be purchased with tactical boosts which is attack and defense or speed.Making him a quite good general for starters.
Offense - 4/10 Worse then average.
Defense - 6/10 Better then average.
Spells - 5/10 average, not too weak, but not too strong.
Caesar is a jack of trades, good at everything, but not specialized in it.
Caesar's front name is never be revealed. However, it is likely he is based off Julius Ceasar, as this takes place before the Tribes in Gaul were conquered.
Caesar's Shield appeared in the game Strike Force Heroes.